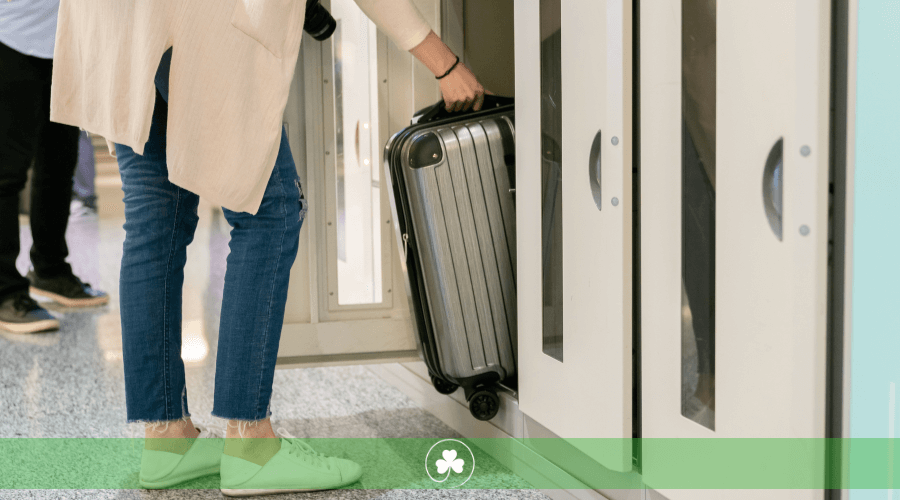 Do you need to find luggage storage in Dublin? Do you know what we mean specifically? We will give you two examples of an increasingly common problem among tourists visiting Dublin and that already has a solution:
Arrivals:
A group of friends arrive in Dublin in the morning from their home country, but still have almost 4 hours until their tourist accommodation is available for check-in, so they must lug their suitcases around the city during that time.
Leavers:
Similarly, a young couple must leave their hostel at check-out time, but their return plane doesn't leave until late in the afternoon, so they have several hours ahead of them to spend in the city, although they must take their luggage with them, as it is not possible to leave it at the hostel and also its location is not the best for leaving for Dublin airport.
How do we solve this type of situation? Very simple, with luggage lockers in Dublin, (premises enabled to store your luggage for several hours, or sometimes even a few days, the so called long term luggage storage in Dublin.
Luggage lockers in Dublin, because dragging your suitcases around the city is no longer a problem
Until a few years ago it was common to see many tourists dragging their suitcases through the center of Dublin, often making time to enter their accommodation or leave the city, but now there is an alternative to enjoy those first or last moments in the city with your hands free, the luggage storage in Dublin, spaces attached to bag storage platforms in Dublin (usually local businesses), where you can leave your luggage safely in different locations in the city according to your needs, so that way you can enjoy the capital of Ireland without burdens.

Mapa Irlanda experience with Radical Storage lockers
At Mapa Irlanda we have used this type of solution on several occasions and we have always been very satisfied. Specifically, on our first trip to Ireland, we had almost 7 hours from the time we had to leave our accommodation until our flight back to Spain, so we decided to spend our last moments in Dublin going to the city center. That is why we booked a luggage locker in the center of Dublin through the Radical Storage platform for a few hours, specifically in a small shop attached to it, where we kept our bags safely and could thus approach to Temple Bar to take our last pints of Guinness comfortably before leaving for the airport.
It is for this reason that we can recommend Radical Storage as one of the best and most reliable luggage storage platforms in Dublin, with more than 20 locations in the center, near to train stations, airport and outskirts of the city, and for an economical rate of 5€ per day per suitcase/backpack, plus a package insurance of up to 3,000€ and video surveillance.
The reservation is made very quickly and easily through their website or app, so in just a few seconds you can have your space reserved. What you should keep in mind, and it is an important issue, is that the schedule of the place is the one that will determine between what times you can leave and go to pick up your luggage (but do not worry, it is clearly indicated before the start of booking).
What are the luggage storage locations in Dublin?
As mentioned above, Radical Storage currently has more than 20 locations throughout Dublin. Among them, it has luggage storage near Connolly Railway Station, Temple Bar, the Guinness Storehouse, O'Connell Bridge, the National Leprechaun Museum or Dublin Castle, among others.
Choose your luggage locker in Dublin and be free!